Tokyo Marathon 2023 Charity Entry Information
About Tokyo Marathon Charity

This is an initiative to expand the circle of charity activities through the Tokyo Marathon.
You can support this initiative by making donations. Those who donate more than the amount specified by the charity organization and wish to run as a Charity Runner, may be selected as a Charity Runner and asked to promote the charity activities while participating in the event.

Official Charity Programs

Tokyo Marathon Sports Legacy Program 1 Tokyo Marathon Sports Legacy Program 2

Maximum entrants

Total 275 Charity Runner entry places available through the Sports Legacy Program-1, and Sports Legacy Program-2.

Application procedure

1) Select a charity organization on the RUN with HEART website
2) Apply to make a donation through the organization's donation system.

Application Procedures & Schedule

1) For those who wish to make a donation application, and also wish to run the event as a Charity Runner

Donation & Charity Runner Application: July 15, 10:00 a.m. – July 24, 11:59 p.m. (JST)
Entry Registration: August 8, 11:00 a.m. – August 19, 5:00 p.m. (JST)
Eligibility:
 ・Must be at least 19 years of age on the Tokyo Marathon 2023 race day.
 ・Must be able to complete the marathon within 6 hours and 30 minutes.

2) For those who wish to donate only

Application Period:July 15, 10:00 a.m. – August 31, 11:59 p.m. (JST)
*Minimum amount of donation shall be 1,000 JPY

Charity Runner Selection Criteria

1) Donations per person is 100,000 yen or more: Mandatory
2) Selected by higher donation amount –> If the donation application amount is the same, it will be decided based on 3)
3) Selected based on the required content of the "Thoughts on charity & Messages" entered at the time of application.

Other

* Charity runner registration (participation) is voluntary for donators.
* Eligibility for participants as a Charity runner include fulfilling all other requirements and regulations applicable to general marathon participants.
How your donations are used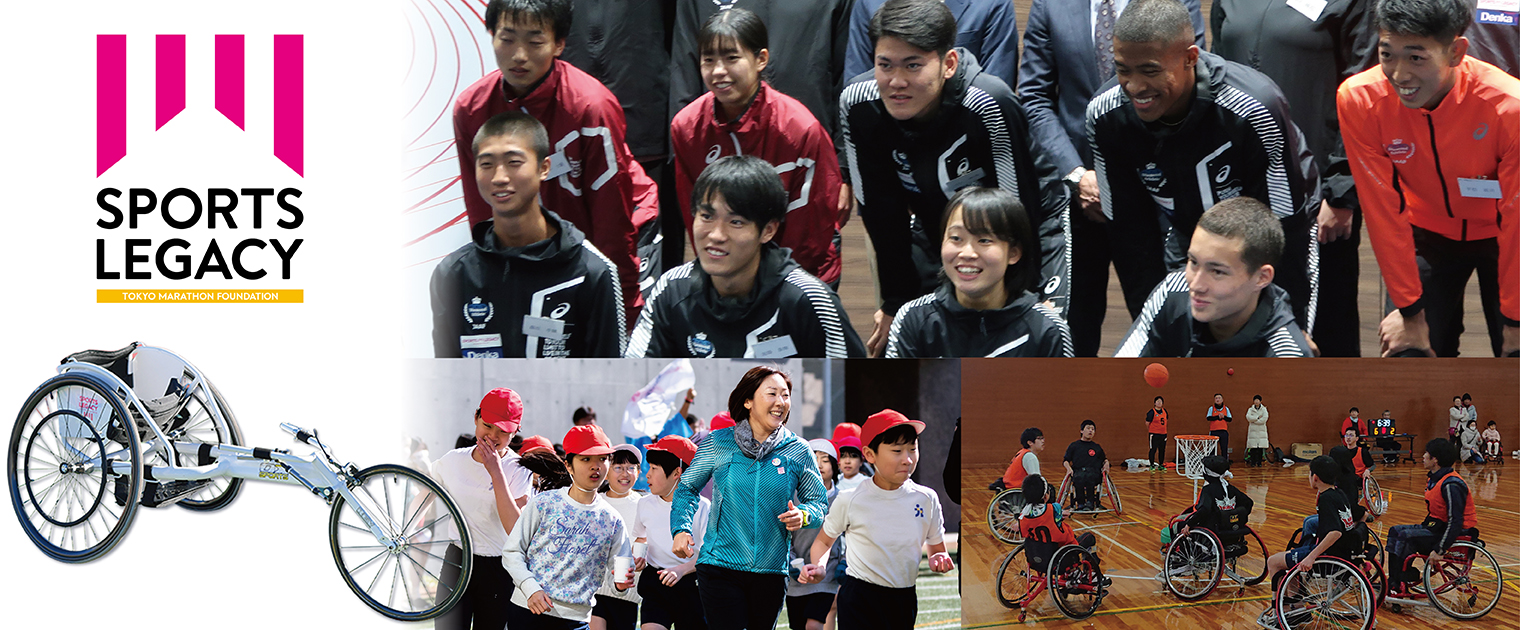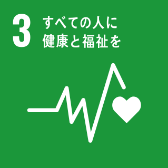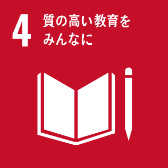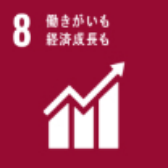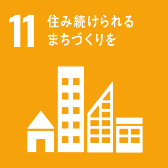 Creating and passing on a society in which people can enjoy new lifestyles through sports
About Programs

As a pioneer in mass marathons and as a forerunner in sports charities in Japan, the Tokyo Marathon, organized by the Tokyo Marathon Foundation, contributes to the advancement of society through running. In its Sports Legacy Program, the Tokyo Marathon Foundation carries out activities based on the four keywords and key concepts of "Sports Dream (Enhancement and Education)," "Sports Foundation (Facilities)," "Sports Expansion (Public Awareness)," and "The Power of Sports (Contributing to Society)." in order to use the platform of sports, unfettered by the boundaries between competitive sports and recreational sports, to pass on a legacy of a brighter future for Tokyo and Japan in the 21st century. We aim for "Innovation & Inclusion," creating innovative activities that anyone can participate in, befitting of the Tokyo Marathon.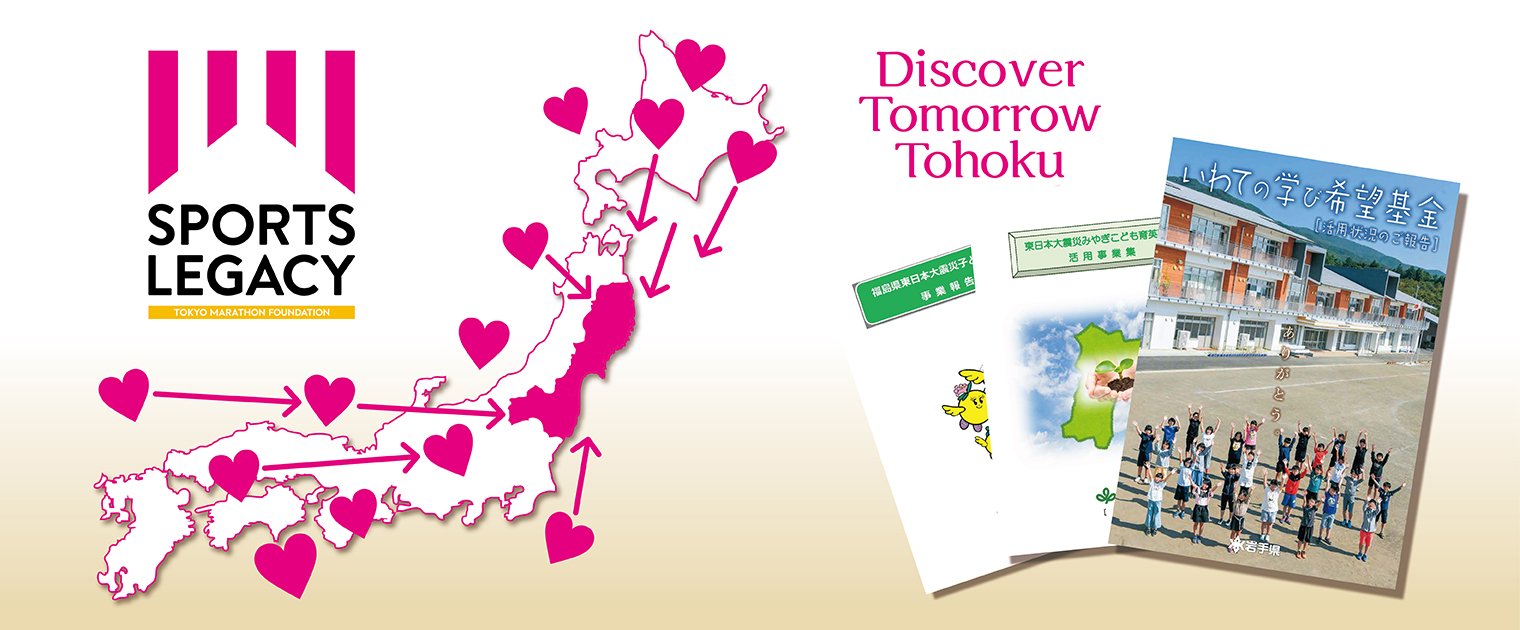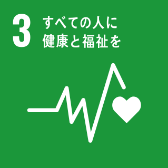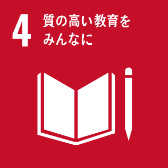 Education work for areas stricken by Great East Japan Earthquake (Iwate, Miyagi, Fukushima)
About Programs

Donations received by the Tokyo Marathon Foundation will be divided between the Iwate Learning Hope Fund, the Children Orphaned by Great East Japan Earthquake Fund, and the Fukushima Donation for Orphans affected by the Great East Japan Earthquake, based on the number of minors within the scope of the projects in the three disaster-struck prefectures. Sports have the power to provide children and adults facing adversity with courage, hope, and dreams. This program supports efforts to tackle social problems through activities such as sporting events, helping foster the creation of an environment that provides Japan with even greater vigor. This program is being carried out as part of one of the Sports Legacy Program's four concepts, "The Power of Sports (Contributing to Society): Attempting to solve societal problems through sporting events, etc."
Participation Procedures & Schedule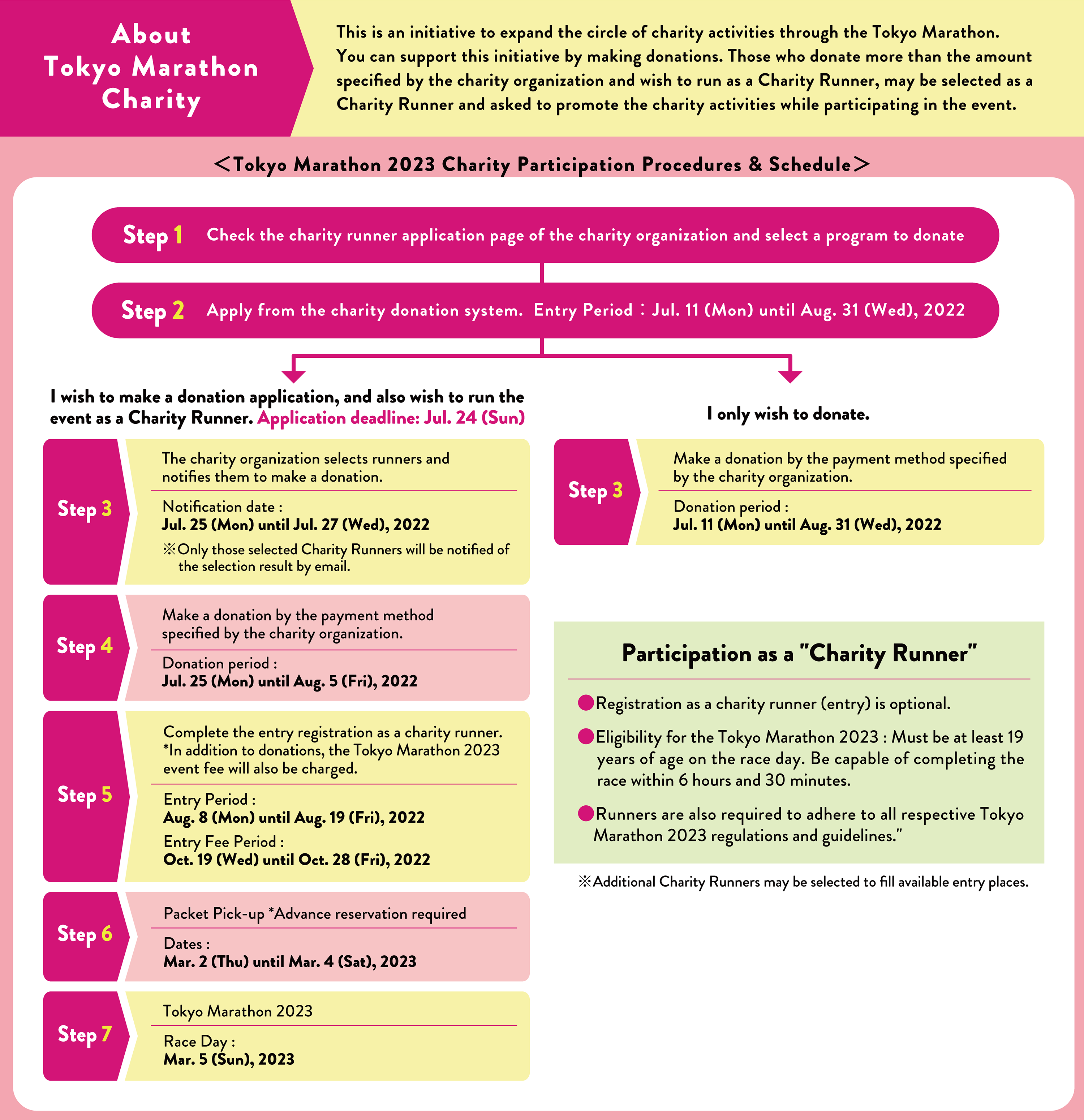 *Application for those residing outside of Japan opens on July 15. (Updated as of July 8, 2022)
Donor program
①Finish lounge exclusively for Charity Runners will be made available. (provisional)

②Charity Runner commemorative T-shirt will be distributed.
Donate